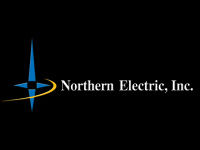 Northern Electric, Inc. is pleased to announce the promotion of Tom Keating to Vice President of the company's Southeast Division, based in Inverness, FL. During the past four years, Keating has excelled as a manager ensuring the success of every project under his direction.
Keating has more than 36 years of experience in the electrical industry, including more than 15 years of management and vice president level experience, working for a variety of highly respected electrical contractors. His background includes estimating, project development, cost control and financial responsibility for electrical construction projects including commercial, industrial, special systems and governmental projects valued at up to $20 million at locations throughout the U.S. He has been with Northern Electric since 2008, managing the successful completion of numerous projects for the company.
"It's a pleasure to announce Tom's promotion, especially as he and his team continues to excel for Northern Electric's clients throughout the southeastern region of the United States," said Al Fisher, President of Northern Electric, Inc. "Tom has establishing trusted and lasting relationships with the clients he represents, and is indicative of the type of management team we have established as a company. Our highest priority is delivering successful projects to the companies we represent, and do so by fielding a team of the finest and most knowledgeable professionals."
More information is available at www.northernelec.com.